How will your car accident claim lawyers get me more compensation?
Car accident injuries often mean time off work, unplanned expenses, and financial stress. But your situation is unique, and your injuries may have led to other health issues and complications. Our car accident compensation lawyers will take time to get to know you personally, identify all your issues and make sure we claim absolutely everything you're entitled to. That's why you'll get more compensation with Law Partners, the leading car accident lawyers in Sydney and NSW.
Am I entitled to a lump sum payment?
Your compensation under the NSW CTP scheme is largely determined by your level of WPI (whole person impairment). However, if this hasn't been assessed correctly or your injuries have worsened over time, there's a risk you'll miss out on lump sum payments you're entitled to. Our car accident lawyers are extremely thorough and will make sure you're correctly assessed so that you receive any lump sums you're entitled to, in addition to your statutory benefits (weekly payments).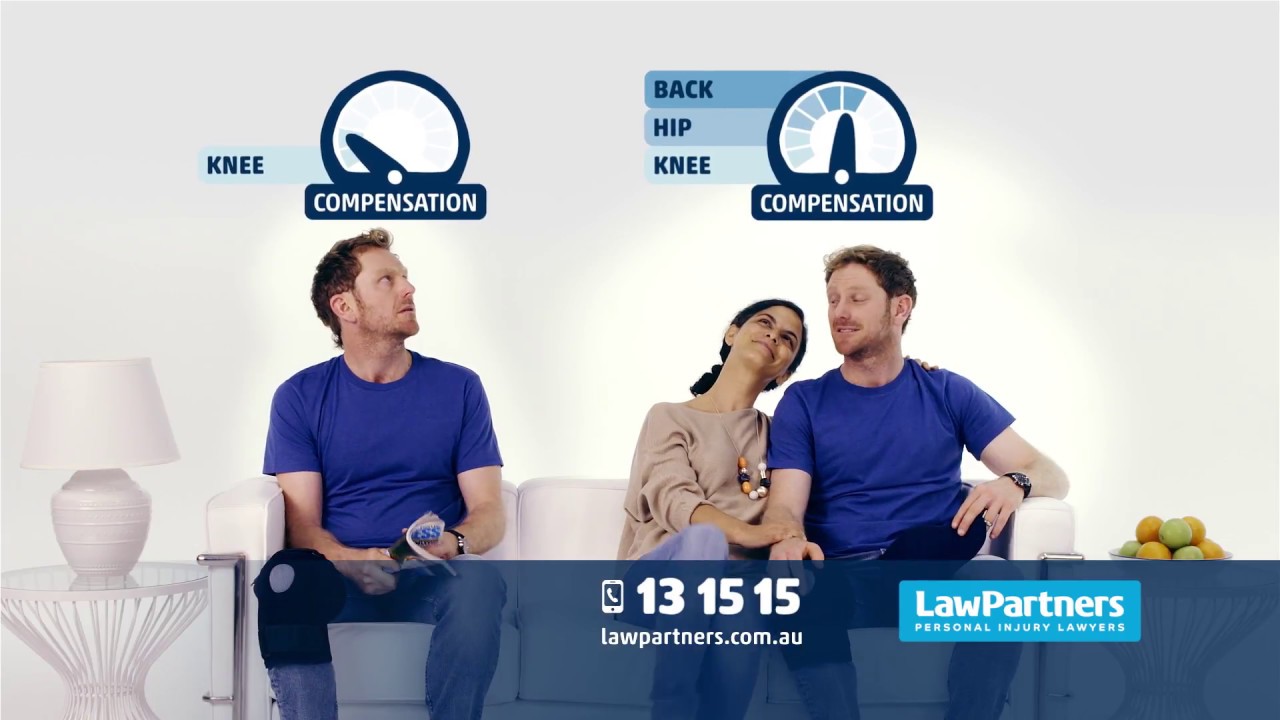 What's the claim process?
We make the claim process easy for you.
1.
We
get to know

you

We'll get to know you personally, listen to your side of the story and give you free advice on your options.
2.
We
ask

more questions

We'll look beyond the obvious and see if your injuries have led to other complications, to claim everything you're entitled to.
3.
We
build

the evidence

Led by your lawyer, your dedicated team including hand-picked medical specialists will build strong evidence to maximise your claim.
4.
We
pursue

your claim

We win over 99% of our cases and we'll fight until you receive the compensation you're entitled to and deserve.
5.
You
receive

your compensation

Your compensation will be paid into your bank account.
What will a car accident lawyer cost me?
For NSW CTP claims, in many cases your car accident injury lawyers' fees are paid by the CTP insurer. Here's an overview of charges:
Lodging your claim
There's no cost for advice to lodge your claim – we'll provide you with free advice over the phone.
Disputes
If you're disputing the insurer's decision over your CTP claim benefits, there are two types of disputes – paid disputes and unpaid disputes.
You won't have to pay anything if one of our car accident claim lawyers assists you with a paid dispute – these fees are paid to us by the insurer.
If we help you with an unpaid CTP claim dispute, we'll do it free of charge.
If we need medical reports to provide supporting evidence, we'll arrange the reports and cover these expenses for you, then seek reimbursement from the CTP insurer.
Lump sum claims
If we're applying for a lump sum for you, there's a schedule of fixed fees we can be paid for CTP insurance claims up to $75,000.
These fees are paid by the CTP insurer.
If your settlement amount is expected to be greater than $75,000, then we'll provide you with a "costs agreement", which shows you the amount we charge for your claim over the $75,000 threshold. This is a no win no fee agreement, so you only pay us if we win.
The fixed fees still apply to the work we do for the first $75,000 of your claim and are still paid by the CTP insurer.
Where can I find a car accident injury lawyer near me?
Law Partners is Australia's largest specialist personal injury firm, and we have 25 local offices.
Our team includes some of the best car accident lawyers in Sydney and NSW who specialise in CTP insurance claims.
To find Law Partners offices near you enter your suburb:
To find Law Partners offices near you enter your suburb:
Did you know?
If you don't live close to one of our offices we can provide free advice over the phone, and we can represent you without you having to leave your home. Call 13 15 15 speak to a specialist.
Commonly asked questions.
How much compensation will I get for my car injury claim?
According to SIRA (the State Insurance Regulatory Authority) Open Data, in the 12 months to December 2020, the average car injury claim payout was $39,839*.
The amount of car accident compensation that you can claim depends on the circumstances of your accident and the extent of your injuries. The factors that will influence the final figure you receive include:
Your age
Whether you were responsible (fully or partly) for the accident
The extent of your injuries
Your level of "whole person impairment" (a scale used to assess your injuries)
Any financial losses (medical bills, wages, etc.) that you have suffered
Any care or help you have needed at home
*https://www.sira.nsw.gov.au/CTP-open-data – in the 12 months to December 2020, a total of 10,553 CTP claims were submitted in NSW and $420,418,734 was paid out.
You can use this, calculator to get an estimate of your car accident compensation.
What are CTP lawyers?
CTP lawyers are the same as car accident injury lawyers. When you claim compensation for car accident injuries in NSW, you're actually submitting a CTP insurance claim. A CTP lawyer is a personal injury lawyer who specialises in CTP claims for car accident injury compensation.
How long will it take to get compensation for my car injury claim?
Once you submit your CTP insurance claim it will be reviewed by the insurer, who must send you a letter within four weeks to tell you if they're accepting or denying the claim. Then the insurer will start making payments to you within 14 days if they accept the claim.
The insurer will then send you a second liability decision within three months of your CTP claim being lodged. This liability decision indicates whether your injuries have been classified as minor or non-minor and who is at fault for the accident.
However, it's important to understand that CTP insurers' decisions can be challenged. The first step is to request an "Insurer Internal Review", then if you're still not satisfied with the outcome you can escalate your dispute to the Dispute Resolution Service. If you're planning to challenge an insurer's decision, it's highly recommended that you speak to a car accident lawyer first, to give your challenge the best possible chance of success. And remember, it's likely you can get your car accident lawyer's fees paid by the insurer.