COVID-19 Update: We can start your claim by phone or video call today. View our full update here.
I've been injured at work. What should I do?
Warehouse, factory, assembly line and loading dock workers are particularly susceptible to workplace injuries. For example, we've helped many clients working in pick/ pack jobs where the repetitive action of twisting while lifting has led to back injuries. If you've been injured at work your employer should take care of submitting a workers compensation claim on your behalf, but you'll need to get a certificate of capacity from your doctor and you'll need to get it renewed every 28 days. This is used to determine your weekly payment amount, unless the insurer makes a work capacity decision that's different from your doctor's opinion. We have a team of hand-picked medical specialists who can assist with this process. If you're unsure what to do or whether you're getting your full compensation entitlements, you can call us – it costs nothing to call Law Partners for advice. We'll put you straight through to one of our specialist workers compensation solicitors, and you'll have peace of mind that you've had legal advice about your rights.
What if I'm a casual employee or contractor?
Some industrial and warehouse workers such as pick/ pack and assembly line workers are employed on a casual or contract basis. As a casual worker you're covered by your employer's workers compensation policy, however regular contractors need to be a "deemed employee" to be covered. If you've been injured and you're not sure whether you're covered, or if you've been told you're not entitled to compensation, one of our specialist workers compensation lawyers will be able to help you and explain over the phone where you stand.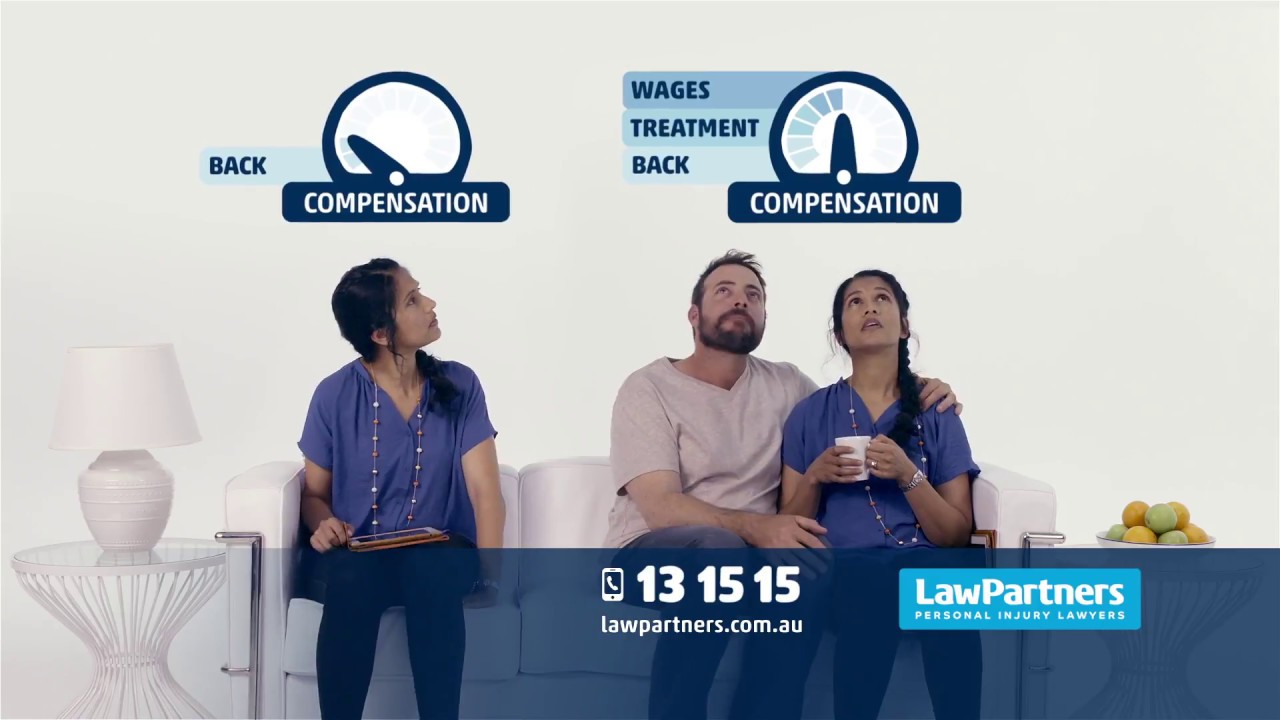 What's the claim process?
We make the claim process easy for you.
1.
We
get to know

you

We'll get to know you personally, listen to your side of the story and give you free advice on your options.
2.
We
ask

more questions

We'll look beyond the obvious and see if your injuries have led to other complications, to claim everything you're entitled to.
3.
We
build

the evidence

Led by your lawyer, your dedicated team including hand-picked medical specialists will build strong evidence to maximise your claim.
4.
We
pursue

your claim

We win over 99% of our cases and we'll fight until you receive the compensation you're entitled to and deserve.
5.
You
receive

your compensation

Your compensation will be paid into your bank account.
What will it cost me?
There are no upfront costs. We'll provide free claim advice, we'll cover all the costs to prepare and run your case and we only get paid when you receive your compensation. Also, just like a mobile phone bill, we put a cap on our fees so there are no nasty surprises at the end of your claim. You should feel comfortable that you can speak to your lawyer any time, without worrying about the cost getting out of control.
Where can I find a work accident injury expert in my area?
Law Partners is Australia's largest specialist personal injury firm, and we have 25 local offices.
We have solicitors and legal teams that specialise in workers compensation claims.
To find Law Partners offices near you enter your suburb:
Did you know?
If you don't live close to one of our offices we can provide free advice over the phone, and we can represent you without you having to leave your home. Call 13 15 15 speak to a specialist.
Commonly asked questions.
What is permanent impairment compensation?
If the injury you suffer causes a permanent impairment or loss of function of a part of your body, you may be able to claim and receive a lump sum payment for permanent impairment. The lump sum payment is paid in addition to any other benefit, and will affect how long you'll be entitled to weekly payments and treatment.
Impairment can only be determined when your injury has stabilised and reached 'maximum medical improvement'. If your level of impairment is greater than 10% whole person impairment (WPI), you will be entitled to a lump sum payment. The amount is determined by reference to a WorkCover scale.
For psychological or psychiatric injuries, you must have a minimum impairment of 15% WPI to claim a lump sum.
How is my work capacity assessed?
Your GP (nominated treating doctor) will issue you with a WorkCover Certificate of Capacity once every 28 days.
You'll see that on page two of your certificate, your GP will provide an opinion on your capacity to work. Your GP will certify you as:
Being fit for pre-injury duties; or
Capable of some type of employment; or
Having no capacity to work.
This is used to determine your weekly payment amount, unless the insurer makes a work capacity decision that contradicts your GP's opinion.